If you wear prescription eyeglasses or contacts, chances are you've heard about the option of LASIK surgery to improve your sight. At Hester Eye Associates PC in Kennesaw, GA, our optometrist offers pre and post-op care for people interested in LASIK surgery and can help you determine if LASIK is a good fit for you. Here are some commonly asked questions about LASIK.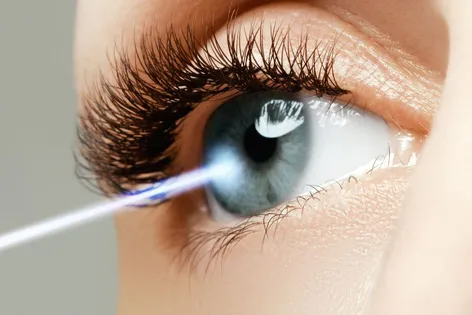 What is LASIK?
LASIK is a surgical eye procedure that corrects refractive errors in your vision to improve the quality of your sight. The procedure involves reshaping the cornea of your eye with a laser to correct problems with myopia, farsightedness, and astigmatism so you can enjoy better vision without depending on eyeglasses or contacts to improve your sight.
Who can have LASIK surgery?
Not everyone is suited for LASIK surgery. LASIK candidates must meet certain qualifications. They must be at least 18 years old, have no major medical or eye health issues, and must have a stable eye prescription for at least one year. Meeting these conditions will enable you to get optimal results from the surgery. After performing a comprehensive eye exam to test your eye health and vision, our Kennesaw, GA optometrist can determine if LASIK is a good option for you.
Is LASIK a safe procedure?
Although there's some risk to all surgery, LASIK has been proven to be a safe and effective surgery over the years, posing little risk of complications. By choosing an eye surgeon with ample experience in LASIK procedures to perform your surgery, you can keep risks at a minimum while optimizing your results.
What kind of results can I expect from LASIK surgery?
Most people are quite satisfied with the results of LASIK due to the tremendous improvement in their sight. Many people experience 20/20 vision after LASIK, but this isn't guaranteed for everyone.
How long does the procedure take?
LASIK surgery takes approximately 10 minutes for both eyes. You'll need to come in early, however, to prepare for the surgery. Before the surgery, your eye surgeon will put numbing eye drops in your eyes so you feel no pain. You will also receive eye drops for after the surgery to reduce discomfort and help your eyes heal.
Are LASIK results permanent?
Yes, LASIK effects are permanent. However, your eyes may change as you grow older, altering your vision after you've had the procedure. You may need prescription eyewear as you enter your senior years.
Visit Our Optometrist in Kennesaw, GA for an Eye Exam and LASIK Referral
At Hester Eye Associates PC in Kennesaw, GA, our optometrist will determine if you are a good candidate for LASIK and will guide you on what to expect. Call us today to schedule an appointment or to learn more.